Cool things for your room and must-have chore hacks for kids!
Whether you're a college kid, teenager, or parent, most of us want cool things for our room and chore hacks for our kids!
Why do parents want chore hacks when it comes to their child's routine? Because, sometimes, just getting your kids to put their stuff away is like pulling teeth from a donkey while walking backward up a steep hill during a mudslide. Think I'm exaggerating? Try coming over to my house on a random school morning and see how it goes.
That's not the case for the parents of this cutie. She not only does her required chores, but seems capable of meeting all her routine needs without any help from mom or dad. Of course, she has some of the best tech to get these jobs done!
What do you think about this sensible child?
While I love the idea of helping little ones become independent and accomplished, I also feel family time should include pitching in together. Of course, it's quite impressive to watch this child accomplish so much on her own, but for me, it lacks the joys of fellowship.
Chore hacks are a fun way to clean your playroom, living room, kitchen, bedroom, or really, any corner of your living space.
Many tech gadgets enhance the experience inside one's home. That said, they aren't always easily affordable. However, the following items are not only inexpensive, but they add to a room's coolness while helping to make everyday tasks both easy and fun. I sure wouldn't mind having a few in my home to make that donkey dentistry a little more streamlined.
Not just for kids, these cool things appeal to all ages.
Bear in mind, this isn't just for little ones. College kids will love these cool things for their college dorm room or first home off campus. Whether it's a teenage wasteland, college dorm, or first apartment, these hacks help get one on the right foot to maintain a clean and efficient dwelling.
No matter how old you are, these cool things for your home have something for anyone who wants to hack their daily chores!
Let's take a closer look at a few of my favorite techs for chores…
A Juicer That Takes The Fuss Out Of Juicing!
Hack your kid's breakfast routine!
This rechargeable Juicer is both wireless and portable! It comes with a USB charger and a cleaning brush. We particularly like the mint/white combo. I think this must-have will make chore-hacking breakfast fun for little ones with little mess for you! As well, it can inspire your young adult to cultivate healthy choices; orange juice is substantially superior to Gatorade 😉
Chore-Hack Your Kid's Hygiene With The Cutest Soap Dispenser EVER!
Nothing routine about it…
Chores are messy and little hands will love pushing down on this yellow ducky, automatic soap dispenser. With an infrared sensor, it's touchless so you don't have to worry about getting it grimy in the process. Bonus, it's battery powered so your child can take it from one room to another without concern for electrical outlets. Not all the best tech for chores needs to be technical!
Cool Night Light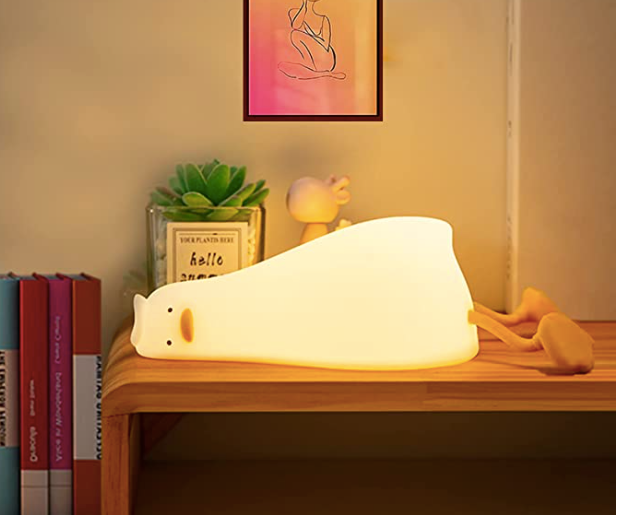 Come on! What kid would not give a smile when they see this YouOKLight Duck Night Light?
While I'm not the biggest fan of LED lights, I like that it's made of non-toxic baby-safe BPA-free silicone. I also like that it's easy to carry and hard to break! Kids are gonna wanna knees and squash the soft texture. Better yet, the manufacturer insists that no matter how hard you rub it, the duck will restore to its original shape.
Now this is cool bedroom stuff!
The Benson duck is warm-lighted and doesn't flicker. It adds a soothing touch when the bedside lamps go out. Now your little one can feel the comfort of this glowing duck!
Built-in 1200m Ah battery, its charge lasts for 4-6 hours. It can also be charged via a Type-C USB cable. But best of all, it can adjust to three levels of brightness so you can dim or brighten with just a tap or knee at the top. It also has a 30-minute timer, so you can keep it lit until your little one–or little one at heart-falls to sleep.
Six-Grid Rice Dispenser And Storage Hacks The Chore Of Canning Grains!
Talk about life hacks! Not Gonna lie, OBSESSED
This six-grid bean and rice dispenser is every OCD homesteader's dream. Efficient, user-friendly, with a wide tray to measure just the right about of grain for your individual needs. Say goodbye to the clutter of mason jars, saggy plastics, and spilled seeds. LOVE IT!
A Trash bin That Ties On Its Own Is A Cool Thing!
True confessions: a least favorite chore of mine is taking out the trash…
Often, for me, the bag is unwieldy, the contents fall out, and I spend more time than I should collect it back up again. And don't get me started on how my dog just loves to rummage through the trash! Well, no more with this TOUCH-LESS can that accommodates bags and cinches automatically.
Mini Portable Washing Machine For Chore-Hacking Quick Fixes!
It's one thing to let the laundry pile up for days, and another to get the basics handled so you can push washing larger items til later. Enter this mini portable washing machine perfect for apartments, college dorms, relocation, and transition periods. Also great for kids who want to pitch in, but are too small to do full loads. With a one-button wash feature, it's easy to use and folds up once finished, making it convenient for storage.
Dust-And-Mite-Hack-Away Your Child's Bed With This Wireless Vacuum
So easy to use and clean, your kid may even look forward to this chore!
No one wants to take a dirty, cumbersome vacuum to their bed sheets, yet this is often where dust and mites migrate. That's what makes us excited about this wireless, suction-powerful, and portable vacuum. It's lightweight and easy to clean with a HEPA filter, UV sanitizer, and 257 nm light. I think it's one of the best techs for chores.
A Clothes Rack That Is Just The Right Height For A Child To Chore-Hack Putting Clothes Away!
Chore-hack hanging up their shirts and jackets with this adorable gold-standing clothes rack. While I love the dirty clothes receptacle on the bottom of the one featured in the video, this one below has a marble stand to showcase a special item. It's a sturdy, freestanding organizer, which makes it hard for kids to find an excuse to not hang up their things!
Chore-hack your Green thumb! How cool is this??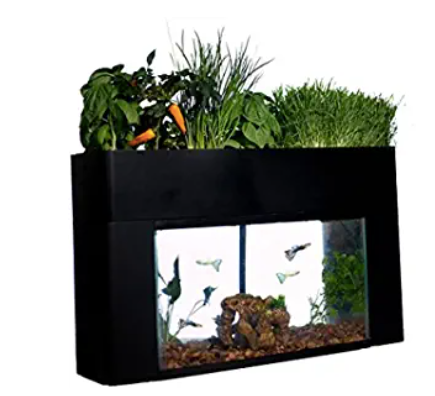 This AquaSprouts Garden is a Self-Sustaining Desktop Aquarium Aquaponics Ecosystem Kit in one!
So, what is aquaponics and how is it cool?
Aquaponics is the breaking down of toxic ammonia and turning them into nutritious plant food called nitrates by using two types of nitrifying bacteria – nitro somas and nitrosoureas.
Say what?
When fish produce ammonia it attracts a type of bacteria called nitrosomas. The fish convert the ammonia into nitrites – a compound even more toxic than ammonia. Thankfully, however, nitrites attract another type of bacteria called nitrospiras which then converts the nitrites into nitrates. And nitrates are an excellent food for plants and are mostly harmless to fish.
Once this has happened, the aquaponic cycle is complete Then, once stabilized, it will ensure ammonia levels are kept at a minimum while providing maximum nutrition for the plants.
In other words, the fish fertilize the plants. Conversely, the plants clean the water for the fish. Once up & running, aquaponics requires minimal water changes & no filter replacements.
Unlike traditional aquariums & water gardens, once up & running, aquaponics requires minimal water changes & no filters. What's more, it fits a standard 10-gallon aquarium.
Enjoy your fish and grow your veggies too with this aesthetically pleasing desktop ecosystem.
Grow your favorite vegetables, herbs, and greens anywhere, all year round. No need for added fertilizers—let your fish friends provide the nutrients your plants need!
This desktop aquaponics sprouts garden aquarium fits a standard 10-gallon aquarium. It allows you to both enjoy housing fish and simultaneously, feed your plants and you! It's a two-for-one life-giving hack that lessens the chore load of vegetable shopping, fertilizing a home garden, and gleaning your fish tank.
This is an excellent choice for college students or kids who have limited space but want to explore how our natural environment works.
We've talked about aquaponics, but what about hydroponics and the hack of growing cool things for your room?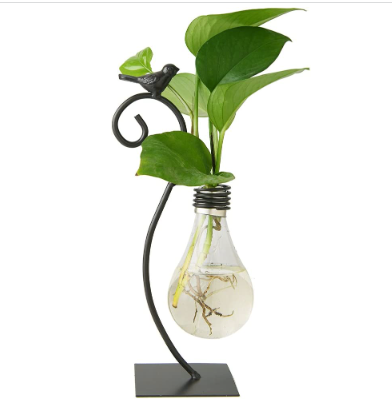 What's so cool about hydroponics?
Hydroponics is a method of growing plants without soil, using a nutrient-rich water solution instead. In this system, the plant's roots are directly exposed to the nutrient solution, which provides all the essential minerals and elements necessary for their growth.
In hydroponic systems, plants are typically grown in an inert medium such as perlite, vermiculite, coco coir, or rock wool, which provides support to the roots while allowing them to access the nutrient solution. The nutrient solution is carefully balanced to meet the plants' specific needs at each growth stage, ensuring optimal growth and development.
Additionally, hydroponic systems use water more efficiently than traditional farming methods, as the nutrient solution can be recirculated, reducing water waste. Furthermore, hydroponics enables year-round cultivation regardless of climate or soil conditions, making it particularly useful in areas with limited arable land.
Click here to learn more about this unique method of growing in-home edible hydroponic produce and the systems we recommend.
This desktop hydroponics glass planter vase by Marbrasse is both design-cool and efficient. It's a great "starter" growing hack for young adults and children to get their green thumbs wet!
Chore-Hack your run to the commissary or corner store, and need an easy place to store your beauty products that require refrigeration. It can also be used to store breast milk for those midnight feeds for new moms…Yes, breast milk!!
Okay, but what college kid doesn't need a mini fridge?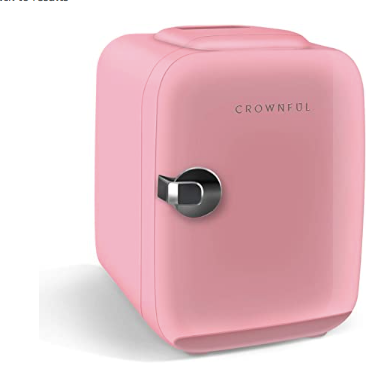 This Crownful mini fridge is only $42.00 on Amazon. It comes in many colors. And, while the darker colors might house the frat boy's hang-over water bottles, the pink says skincare storage to me!
This fridge gets great customer ratings. It's an excellent little device for storing food, drinks, beer, snacks, breast milk, cosmetics, and skincare products.
This fridge has a 4-Liter capacity that can store up to six 12 oz. soda cans. The interior size is 5.32×5.52×7.88 inches.
Portable and compact
This mini comes with a convenient carry handle and a detachable shelf, making it easy to transport.
There's an internal thermostat that can maintain a temperature of up to 149°F (65°C) or cool down to 32°F (0°C) below the surrounding temperature.
And, it's super simple to operate! Also, it has a brushless, high-grade fan motor in the portable electric cooler & warmer fridge. This can operate silently (25 dB Sleep Mode) so it won't bother roommates or disturb one's sleep.
I like it because it's freon-free! Crownful uses innovative safety technology that is ETL certified for long-lasting durability and energy efficiency.
*It also includes plugs for both standard home outlets and 12V car chargers.
Chore-hack your run-down furniture and add cool things to your room!
Removable wallpaper can clean up a used bedside table or bureau in a flash!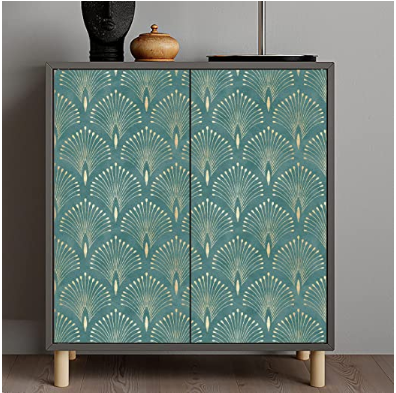 This removable wallpaper from UniGoos doubles as a shelf liner and, as you can see above, is an excellent way to hack an upgrade on nicked or damaged furniture.
I'm digging this vintage peacock tail classic pattern in blue-green, but there are many styles to choose from.
The paper has self-adhesive, making DIY projects a snap for all ages. But more than simple to apply is the ease of removal. And, it's a super fun art project to do as a family!
Chore-Hack your charging!
You may not have your act together, but you'll sure look like you do.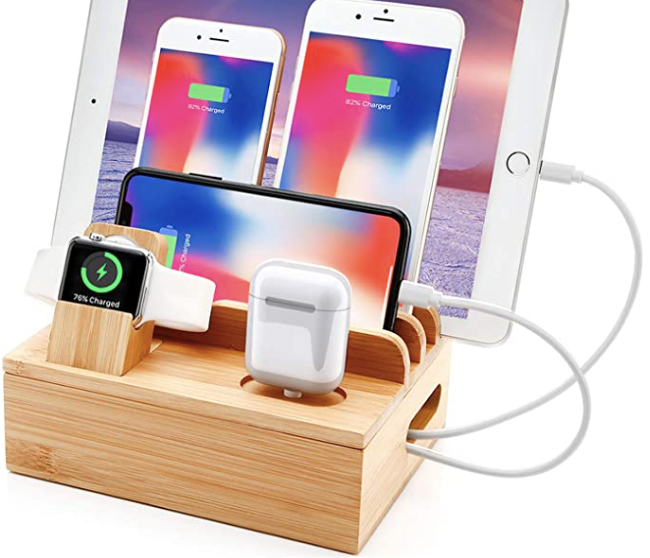 This bamboo charging station houses multiple devices in one spot. No more running around looking for a spare outlet, or waking up to panic because you forgot to charge your tablet for class!
With so many devices and cords, keeping them all charged can give one a tech migraine! Now you can save space and do away with all the wire mess. And because it charges everything at the same time efficiently, it's easy to set up and use.
Speaking of cool chore hacks for charging…
This phone's fast charger has truly gotten me out of a jam on more than one occasion!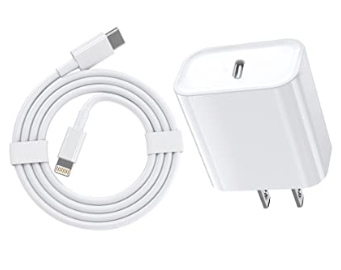 I can't tell you how many times I've gone to leave for an appointment and realized I didn't charge my phone. I don't know how people keep it all together these days! But this charger has truly been a lifesaver. It fits the "cool stuff" for your room category, cause having a dead phone when you have to dash is completely uncool. So yeah, if not remembering to charge your phone has stressed you out more than once, get this. Trust me.
Now cool things for your room can hide on your coffee table!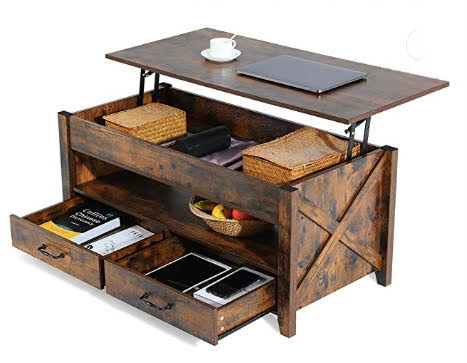 This Evajoy Lift Top Table has two drawers, a middle shelf, and an upper cavity. The floating top with metal air pressure levers and foam cushion is ergonomic and rustic modern. And because it lifts and sets, you can use the top to work on while simultaneously having access to what you store underneath.
Much more than a coffee table, this lifts top chore-hacks away clutter.
The extra storage (sized at 41.3" W x 19.7″ D x 18.3″ H) is surprisingly generous. Think of quick access to snacks and books from the middle open shelf. And you can valuables in the lower drawers.
The wood is eco-friendly, CARB P2-certified, and water-resistant. The barn-door-inspired X-shaped design on both ends. Not only is this a nice added detail, but it also reinforces sturdiness.
Don't forget cool things for your guest room
Hack your hostessing and save yourself from having to refill the water glass!
This Elle Décor Vintage Bedside Water Carafe With Tumbler adds so much elegance to any room decor. Better than useless knick knacks that only serve as room decoration, this decanter serves a purpose.
I love it for its smart design. The matching tumbler conveniently serves as a lid. Its stylishly romantic, tinted beveled, lead-free glass adds instant charm to any room. With this item as your inspiration piece, you can not only serve your guest's needs, or your own but add to the sumptuousness of your home decor. Any bland bedroom will benefit from a touch of glamour this object conjures.
Place it next to the soft glow of a table lamp, and create a magic moment.
If the Vintage Carafe isn't your style, how about this cool hack to keep your beverage hot?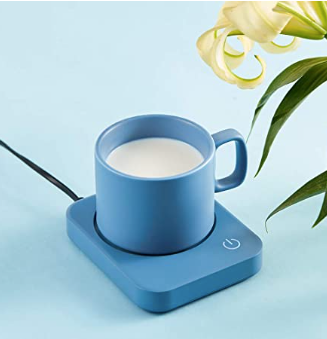 Get smart with this Smart VOBAGA Coffee Mug Warmer. It has a 4-hour auto shut off so you don't have to worry about unplugging it like back in the old days of plate warmers. It offers 3 temperature settings so you can adjust depending on what you're drinking or who's drinking it.
(*Doesn't come with the mug.)
I'm also into this smart mug warmer too!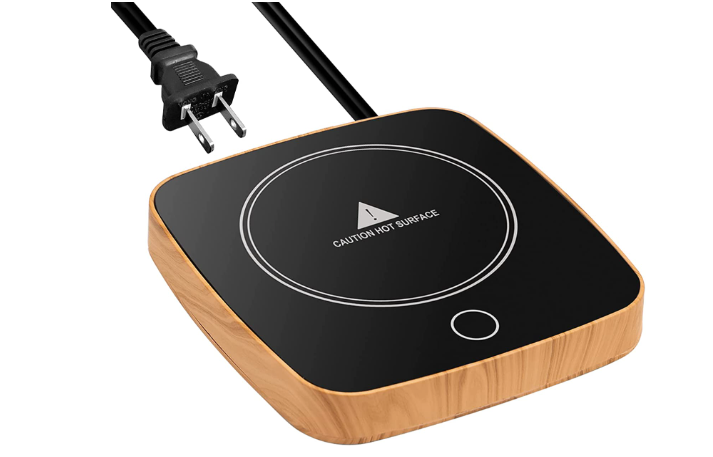 I like this Raccoon Coffee Mug Warmer in wood grain and black. It gets a lot of good reviews and I like the urban vibe.