Best Amazon Buys For The Home: As seen on Bustle and Featuring Janna: Designers Say All You Really Need To Make Over Your Home Are These Inexpensive Things From Amazon
Room transformations for just a few dollars.
Written by Claire Epting
Feb. 3, 2023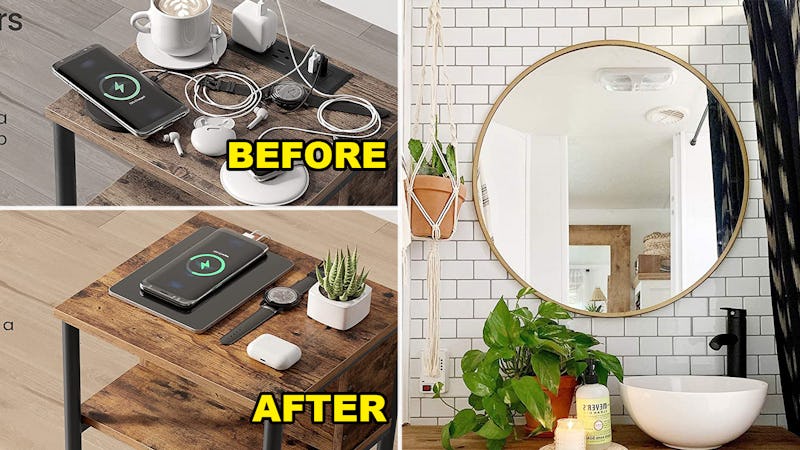 Best Amazon buys for the home. We may receive a portion of sales if you purchase a product through a link in this article.
Growing up, I loved watching home makeover shows. But this led me to believe that you needed a ton of money (and a camera crew) to transform your space into something new. However, this couldn't be further from the truth —thanks to these expert-recommended home hacks that are surprisingly wallet-friendly.
A charming velvet stool in an eye-catching hue, peel-and-stick wallpaper with a modern print, and a stylish U-shaped vase — these are the things that interior decorators use to elevate their clients' living spaces. Ready to learn their tricks? Here are the inexpensive home products on Amazon that designers swear by.
1. These Flameless Candles That Set The Perfect Ambience
Erin Davis, the interior designer at Erin David Design, suggests using flameless candles as a fuss-free alternative to traditional pillar candles. "This is a great way to add ambiance to your space while keeping it safe for kids and pets," she says. It's easy to switch the candles on and off — as well as set convenient timer functions — using the included remote. Place them in a cluster on your mantel, or scatter them throughout your home.
2. This Wooden Dough Bowl That's So Versatile
Davis is a fan of dough bowls due to their versatility, explaining "They can function as a fruit bowl on your kitchen island or [you can] use them as a simple dining table centerpiece filled with collected pinecones." Made from polished wood, this dough bowl adds a rustic touch to any room in your home. The hand-crafted bowl won't break the bank either — but it looks much more expensive than it is.
3. Some Brass Candlesticks That Look Like Antique Pieces
"Brass candlesticks are so on trend right now, but they're classic enough that you can use them for years to come," says Davis. This trio of candlesticks looks like an antique set — but it comes at a much more wallet-friendly price. Each brushed metal piece has a sturdy base with a nonslip pad underneath, so they'll stay firmly in place on your tabletop. Want something more subtle than brass? This set is also available in black.
4. A U-Shaped Vase With A Modern, Minimalist Feel
According to Robin DeCapua, owner of Los Angeles home staging company Madison Modern Home, U-shaped vases are all the rage — thanks to a renewed interest in 1980s postmodernism. This textured ceramic vase comes in cool shades of mint green, sky blue, and soft pink. "Try placing a spray of dried flowers on one side of the vase, or simply place an empty vase on a stack of books for an of-the-moment design statement," she says.
5. This Terrazzo Ceramic Planter That Adds A Cool Texture To Your Home
Another '80s-inspired material that's having a moment? Ceramic terrazzo. "Cute, practical plant pots in this popular material will update your home's look without breaking the bank," says DeCapua. You can incorporate terrazzo into your home with this oval planter that's just big enough for a few succulents or an aloe plant. A drainage hole allows excess water to exit through the bottom.
6. These Checkered Throw Pillow Covers That Are Retro-Cool
DeCapua says, "The checkerboard pattern is having a moment in the sun right now, with wool checkerboard rugs trending heavily. While these rugs can cost a pretty penny, you can have all the style points of this trend in a soft sherpa fabric pillow." She recommends these throw pillow covers that capitalize on the trendy brown and white color combination. With a soft Sherpa fleece front and a smooth velvet back, the covers can be placed directly over the pillow inserts you already own. If this color combination isn't your speed, there are multiple other styles to pick from.
7. A Sophisticated Brass Curtain Rod That's Easy To Install
Lauren Dalrymple and Kate Keyser, founders of Ivy Lane Home Staging, recommend using a brass curtain rod to add a sophisticated touch to your bedroom or living room. It comes with all the hardware you'll need, so installation is hassle-free. While brass is a timeless neutral tone that suits many spaces, you can also opt for brushed nickel or matte black.
8. Some Elegant Brass Handles That Elevate Any Cabinet Or Drawer
Continuing with the brass theme, these metal handles are a small but significant update you can make to your home. Add them to your drawers, cabinets, and pantry for a streamlined, uniform look. Or, if you prefer cooler tones in your space, you can opt for polished chrome or brushed nickel styles.
9. This Cozy Throw Blanket That Adds An Inviting Touch To Your Living Room
"A throw blanket placed on the arm of a sofa or bundled up in a woven basket gives a room warmth and makes it look more inviting to your guests," says Olma Fuentes, founder of Deni + Dove Interiors. With a subtle geometric pattern and fringed trim, this knit blanket is a great way to incorporate an interesting texture into your room. Choose from a wide array of rich jewel tones and subtle neutral colors.
10. A Woven Storage Basket With So Many Uses
Fuentes recommends using a woven basket like this to hold your oversized throw blanket — your guests will appreciate the cozy touch. But you can also use it to store extra pillows, dog toys, laundry, or something else entirely. The convenient side handles make it easy to tote the basket from room to room, and the beaded tassel adds a nice touch.
11. This Peel & Stick Wallpaper With A Contemporary Print
"Peel-and-stick wallpaper is a great way to add texture and color to any room without having to go through the mess of traditional wallpaper," says Kate Diaz, designer and co-founder of Swanky Den. Featuring a modern, rounded print, this self-adhesive wallpaper is perfect for creating an accent wall or adding some life to the sides of a worn-out dresser. When you're ready to switch up your room's look again, the paper peels right off.
12. A Curtain Of Ethereal Fairy Lights You Can Hang Indoors Or Out
"Specialty lighting fixtures like string lights or fancy lamp shades can elevate the look of a space…" says Diaz. This curtain of LED fairy lights can conjure up a dreamy ambiance in your bedroom or on your patio. It's equipped with eight different lighting modes, so the curtain can flash, twinkle, glow, and even create a wave-like effect.
13. The Charming Table Lamp Made With Pressed Flowers
Follow Diaz's "fancy lamp shade" advice with this utterly unique tabletop lamp that features pressed botanical leaves and flowers. The gorgeous lampshade sits on a minimalist wooden base, casting a warm, soft glow that creates a calm ambiance in your room. Besides this cylindrical option, the lamp is also available with an angular box shade.
14. These Pretty Leaf-Shaped Decals Are Removable & Reusable
"Removable wall decals are an easy way to bring personality into any room without having to commit fully," says Diaz. This set of leaf-shaped decals adds a nature-inspired touch to your walls — scatter them throughout the room or use them to create a pattern. Since they're adjustable, it's okay if you don't place them just right — simply peel them off and try again.
15. This Acacia Wood Cutting Board That's Both Beautiful & Functional
Bethany Adams, designer at Bethany Adams Interiors, suggests picking up a wooden cutting board (or two) for your kitchen. "They look beautiful and are functional — besides being used for chopping and serving, they can also help to hide unsightly electrical outlets," she says. Made out of gorgeous acacia wood, this wallet-friendly board even has a built-in handle for easy carrying.
16. A Fabric Shower Curtain With A Linen-Like Texture
"Less is often more when it comes to redecorating a bathroom on a budget," says Adams. While she suggests opting for a shower curtain made out of real linen, you can save a few bucks by picking this durable polyester curtain with a linen-like texture. The thick, waterproof fabric comes in several spa-worthy colors, including cream, sage green, and blue-gray. A set of rustproof grommets and sturdy plastic hooks ensure the curtain stays securely on your shower rod.
17. These Self-Adhesive Tiles Create An Instant Backsplash
When it comes to revamping your kitchen or bathroom, Dessie Sliekers, interior designer at Slick Designs, suggests using self-adhesive tiles to create a backsplash. The peel-and-stick tiles can be placed directly on your wall to create the effect of real tiling — without all of the work (and cost) of installation. Besides classic white and black, the tiles are also available in a cool mint green color.
18. A Pair Of Curtain Holdbacks In Elevated Brushed Brass
Sliekers recommends outfitting your windows with quality curtain hardware — like these brass curtain holdbacks. Providing an elegant touch, they can be screwed directly into the wall next to your window, staying securely in place as they keep your curtains out of the way. There are also brushed silver and matte black options for those who prefer cooler tones in their home.
19. This Compact Side Table With A Built-In Charging Station
Sliekers advise placing multifunctional side tables around your home — especially if they have charging capabilities. Despite its small size, this wooden side table makes use of every inch and is designed with a hidden power strip that serves as a charging station for up to four devices — so you can power up your household's smartphones and tablets while you sleep or lounge on the couch. For even more storage space, there's a shelf beneath the charging dock that can hold a stack of books or a box of tissues.
20. The Double-Level Spice Rack That Slides Out From Your Shelf
While we're on the subject of space-saving home hacks, Sliekers recommends spice storage inserts — and this double-tier spice organizer fits the bill. Constructed with a sturdy metal frame, the storage unit easily slides in and out of your cabinet on a smooth track. This way, you can access all of your jars at once — without having to shift everything around to reach the items in the back.
21. An 8-Tier Storage Rack For Your Pots & Pans
Sliekers is all about pan storage inserts — so if your collection of pots and pans is slowly taking over every last bit of cabinet space, this metal organizing rack can help tidy things up. Designed with eight height-adjustable tiers, the sturdy unit can support up to 10 pounds per layer — perfect for both your small and large cookware items. Place it inside your cabinet or leave it out on the counter for easy access.
22. This Adjustable Organizer For Your Food Storage Container Lids
Whether you like to meal prep or frequently pack away your leftovers, you probably have a drawer or shelf that's littered with food storage container lids — that's why Sliekers recommends specific storage inserts for lids. This adjustable organizer makes it easy to keep your lid situation under control, thanks to its adjustable dividers. Organize lids by size, then store the whole thing in a cabinet or drawer.
23. These Bamboo Shades Make Any Room Look Instantly Nicer
To give your room a more elevated look, Chicago-based interior designer Danielle Rub suggests swapping out your conventional blinds for these bamboo shades. "In addition to being functional, they add texture and look almost as good as the custom ones I get for my clients for a fraction of the price," she says. And, since they're available in dozens of sizes, you'll easily be able to find the right shade for just about any window in your home.
24. A Chic Faux Leather Tray That Can Be Used So Many Different Ways
"A chic tray on your coffee table, nightstand, chest, or countertop can be both functional and stylish," says Rub. She also recommends finding a tray wrapped in a unique material, such as this one made with faux crocodile leather. Use the tray to hold beverages, display a couple of trinkets or as a catchall in your entryway. This tray comes in neutrals like brown and black, as well as shades like emerald green and baby blue that'll add a bright pop of color to your space.
Made from thick-cut, Italian-crafted glass, this https://amzn.to/3JLvQhl sophisticated decanter elegantly displays your alcoholic spirits. "A glass decanter filled with bourbon, scotch, or whiskey adds James Bond vibes and invites guests to help themselves to a drink," says Rub. The geometric shape of the stopper not only lends an artful appearance, but also allows you to get a firm grip while popping open the decanter.
26. The Hand-Woven Jute Rug That Adds Natural Style Anywhere
"Natural fiber rugs like jute and sisal are a great way to add texture and make a room feel more finished," says Rub. This hand-woven rug is constructed from a blend of jute, sisal, and sea grass, with a fabric border that ties it all together. Besides this rounded style, there are plenty of rectangular and square-shaped options to pick from. "Everyone is always blown away when they find out my living room jute rug is from Amazon," Rub adds.
28. The Minimalist Marble Bookends With Mango Wood Accents
There's something that's just so luxurious about marble — and you can incorporate this stunning stone into your home with this pair of bookends. "Marble bookends are a great addition to elevate any bookshelf," says Rub. Minimalist and streamlined, each bookend is finished with a layer of mango wood for a two-tone look. Not to mention, they come at a wallet-friendly price — but certainly look more expensive than they are.
29. These Realistic-Looking Succulents That Hang In Contemporary Planters
"Nothing says 'welcome to my home' and adds a natural, cozy, and homey feeling than plants and greenery," says Peyton Robinson, interior designer for home design magazine, Foter. If you don't have the time to care for houseplants, there's no need to fret — Peytons says faux plants work just as well and look "super cool" when they're hanging. The realistic-looking plants are placed in a pair of contemporary circular planters, which can then be hung on your wall or along your windowsill.
30. A Decorative Plate With An Artful Floral Design
Instead of shelling out for expensive art pieces, Robinson recommends using an unexpected item to adorn your walls — decorative plates. "They come in all sorts of colors and patterns to help you match the style you're looking for," she says. This 10-inch plate features a gorgeous illustration of a magnolia — and there are plenty of other floral designs to pick from, as well.
31. This Streamlined Metal Ladder That Displays Your Blankets & Quilts
Recommended by interior designer, Janna Robinson, this metal ladder is perfect for displaying your throw blankets, quilts, and towels with style. Measuring 5 feet tall, the minimalist fixture casually leans against your wall, where the four rungs provide plenty of space to drape your favorite pieces. The streamlined, all-black design blends effortlessly into any room.
32. These Eucalyptus Stems That Add A Touch Of Greenery To Your Home
To infuse your space with a touch of lush greenery, try these faux eucalyptus stems. Erica and Laurie Davis, co-founders of Eralyn Interiors, recommend placing them in the living room, kitchen, or bathroom for an elevated look. "These eucalyptus stems paired with a clear glass vase add instant life into any space in the home," they say. You get 24 stems in a pack, which can even be arranged together with faux flowers to create a striking centerpiece.
33. A String Of Wooden Beads That Make A Lovely Accent Piece
"Decorative wooden chain links and bead garland can be used any time of the year to add warmth and texture to the home," said Erica and Laurie Davis. Measuring 58 inches long, this wooden garland looks lovely hanging from a chair, draped around a vase, or set artfully on your mantel. Fringed tassels at either end add a rustic, farmhouse-chic look.
34. This Matte Black Doorknob Looks Sleek & Up-To-Date
"If your door handles, drawer pulls or cabinet knobs are looking a bit dated, replacing them with modern alternatives is a simple and inexpensive way to add a touch of style to any room," says Kristina Davis, interior designer at Letti & Co. Easy to install in just a few minutes, this matte black doorknob can make any space feel more contemporary. There are also nickel, brass, and chrome options to choose from.
35. This Accent Stool That Adds Cheerful Color Wherever You Put It
"Find smaller accent chairs or side tables or stools. These have to be unique in shapes or popping in color," says Stella Guan, a Los Angeles-based designer at Bezier Home. Available in bold shades such as teal, tangerine, and matcha green, this velvet stool adds a fun — but not overpowering — pop of color to your home. The cushion sits on a sleek, gold-painted frame that looks both modern and elegant.
36. A Simple Yet Functional End Table With Discreet Storage Space
In addition to stools, Guan also recommends using unique end tables to accent your home. This unique option has the bonus of a fabric basket shelf, providing you with extra storage space for books, tissues, dog toys, or anything else you want to keep close by. The minimalist metal frame is available in four colors — black, white, mint green, and dusty pink.
37. This Matte Black Pendant Light That Upgrades Your Kitchen
Updating the lighting in your home doesn't have to be time-consuming or costly — this hanging pendant light is proof. "Modern black pendant lights […] add a modern touch to any room," says Jen Stark, designer at Happy DIY Home. Compatible with both incandescent and LED bulbs, the height-adjustable lighting fixture is easy to install in any space.
38. The Hanging Mirror That Makes Your Room Look More Spacious
"Accessories such as mirrors and clocks can be a great way to make over your home on the cheap," says Sage Stone, interior designer and cofounder of Ever Wallpaper. For example, this hanging mirror can work wonders in brightening up a room. Not to mention, mirrors also create the illusion of more space, so they're particularly effective in more compact quarters. Choose from circular, oval, and hexagonal shapes.
39. A Tabletop Clock That's Both Practical & Fun
Following Stone's previous advice, you can add some character to your room by placing this charming clock on your table. Nowadays, with digital clocks largely replacing analog ones, it's nice to have a good old-fashioned clock face to glance at throughout the day. This battery-operated, non-ticking model even has a built-in backlight that illuminates the face at night.
40. These Hexagonal Floating Wall Shelves
"Wall shelves are an excellent way to add storage and style to your home," Stone tells us. She specifically singles out floating shelves as a way to create visual interest on your walls — I love this set with a hexagonal shape. With each metal piece slightly varying in size, the trio looks great placed together in a cluster — or you can space the shelves out throughout your home. The wooden base on each shelf can support up to 13 pounds of weight, so feel free to add vases, candles, and reed diffusers.