7 Mistakes People Make When Hanging Curtains—and How To Fix Them
Published by Realtor.com
Jan 26, 2023
Hanging new curtains is one of the best budget-friendly ways to revamp your home. But, it also tends to be one of the most difficult home decor projects to complete correctly.
From not measuring windows right, to incorrectly placing curtain rods, there is a lengthy list of things that can go wrong.
Whether you're looking to update old living room window treatments or hang functional curtains in the bedroom, be sure to steer clear of these all-too-familiar mistakes. Here are 7 Mistakes People Make When Hanging Curtains—and How To Fix Them
1. Choosing the wrong curtain length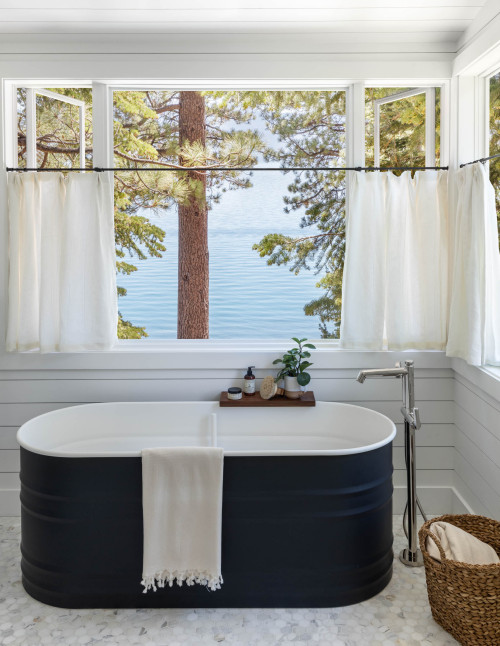 When deciding on curtains for your home, it's important to take length into consideration.
"The right curtains will make a room look open and complete," says Mallory Micetich, home expert at Angi.
Often, people will hang curtains that are too long or too short for a room, in turn making the space feel disorganized.
"I recommend choosing curtains that barely brush the floor for the best effect," says Micetich.
If you're looking to create a more formal or dramatic look, Angela Boswell, founder of The Drape, recommends curtains that are at least floor length.
"Formal curtains should come all the way to the floor, and for drama, have more length to pool or puddle," she says.
If you have furniture or radiators, window sill–length curtains might be appropriate. These curtains should stop around 2 inches below the window frame.
2. Hanging curtains that aren't wide enough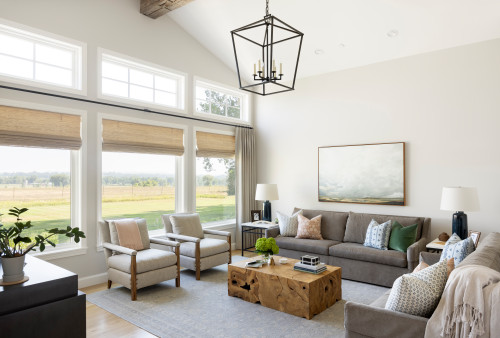 Photo by Ashleigh Weatherill Interior Design
Length isn't the only challenge; getting the curtain width right is also a challenge. To fix this, measure the width of your window, and then multiply that number by 2.
"Curtains should be double the width of the window to not look limp and forgotten," says Miriam Silver Verga, partner, and principal at Mimi & Hill in Westfield, NJ. "Fluffy and full is the goal."
3. Not taking into consideration the view from outside the home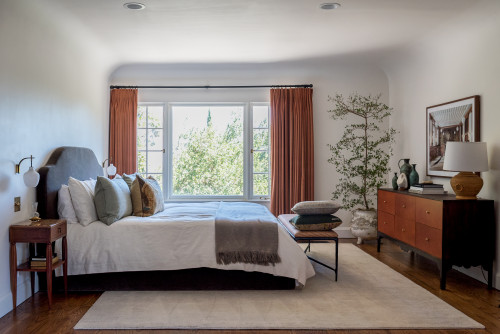 Photo by Driftwood Studio, Inc
"My secret to selecting window treatments is to treat the exterior view into the home equally to what the homeowner is experiencing inside," says Devin Shaffer, lead design expert at Decorilla.
Shaffer points out that if your curtains have a white or black backing, which is common with light-filtering or thermal options, it's important you add a layer behind them that better matches your home's facade. If you leave it as is, the colors might clash.
Paying attention to this small detail can have a substantial positive impact on your curb appeal if you're getting ready to sell your home.
4. Putting up wrinkled curtains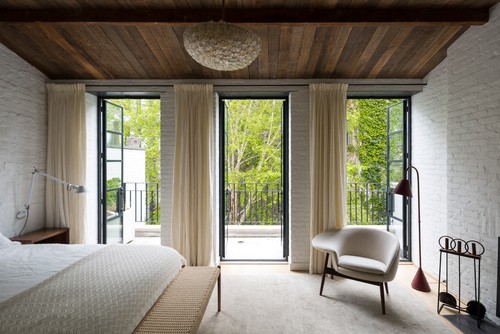 Most curtains come wrinkled right out of the box, and skipping straight to hanging them will very likely interfere with the polished look you're trying to achieve.
"Buying new curtains is exciting, but it's important to first prep them, especially if they just came out of a package," says Janna Robinson, interior designer, and lifestyle technology design expert. "Iron or steam the curtains before hanging."
5. Placing the rod incorrectly
Curtain rod placement makes a huge impact on the overall look of a room. Because of this, you need to make sure that it's in the right spot.
"Many people place curtain rods too low, making the room look smaller than it really is," says Micetich.
Micetich recommends installing your curtain rod at least 4 to 6 inches above the window frame. Curtain rods can be placed higher if you have a taller ceiling and want to emphasize that.
Be mindful of the horizontal placement—rods should always be wider than the window frame. And make sure your rod is level.
"I recommend placing the brackets at least 2 to 3 inches from either side of the window frame," Micetich says.
Thicker materials, such as ones used in blackout curtains, might work best in bedrooms as they can block light and help you sleep better at night.
6. Using the wrong curtain material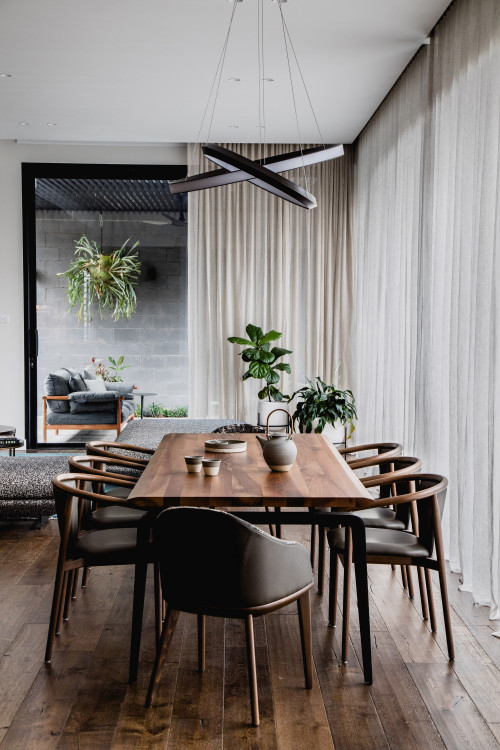 Photo by White Pebble Interiors
If you want your curtains to be functional, you must start with the right material.
"Sheer curtains can let in light while allowing some privacy, which can be a good option for big spaces like living rooms," Micetich says.
Thicker materials, such as ones used in blackout curtains, might work best in bedrooms as they can block light and help you sleep better at night.
7. Not having the right tools
Hanging a curtain rod so it's level and secure can be next to impossible if you don't have the correct tools. Mounting hardware varies; some curtain rods require long drill bits to attach to the wall.
In addition to the curtains, rods, and hardware, you'll need a drill and bit (in a variety of lengths), wall anchors, level, tape measure, pencil, and ladder to get the job done right.