Mushroom aesthetic is all the rage and JR Designs is wild about this latest interior design trend. From Mushroom tables to the super cute Mushroom wallpaper aesthetic, the magic fungi element brings a sense of wonder into your home.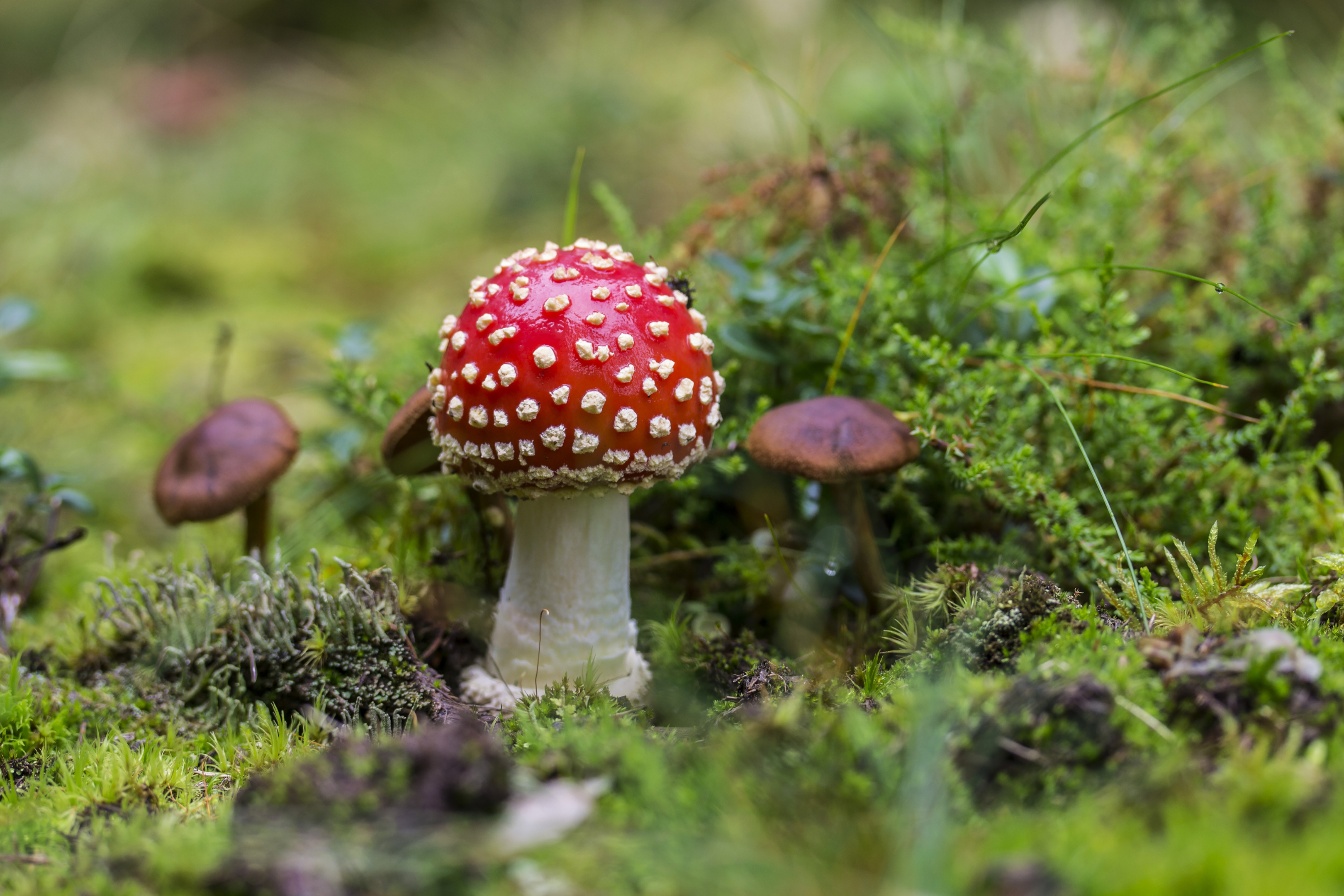 How did Mushroom Aesthetic become a thing?
Apparently a group on Facebook called "mushroomcore" kicked off the trend by celebrating all things mushrooms. From a unique mushroom sketch to a homegrown mushroom creation, anything mushroom was shared there. And it's true that the mushroom has inspired artists from around the world dating at least as far back as 4700 BC with a famous Algerian cave painting called "Tassili n'Ajjer."
Of course it's hard not to come across information about "magic mushrooms" as you explore all things mushroom aesthetics, but mushroom decor is a definitely departure from the mind altering psychedelia discussion.
Why are people tripping for Mushroom Decor?
Fairyland Mushroom Lore
It's hard to say what draws one to the mushroom aesthetic. Mushrooms seem to take on a life of their own. Of course, many have sweet, childhood memories, or simply resonate with the whimsy of the fairytale mushroom aesthetic. This would be that which conjures fairies, hobbits and dwarves who live in mushroom houses and have a secret world in the magical earth realm.
Nature aesthetic and Mushroom Decor
There is something cozy about the mushroom shape that evokes the warmth of nature. When incorporated indoors, it brings a sense of the natural outdoors inside. Mushrooms can certainly warm up modern austerity, or lend an air of playfulness to a staid environment. Let's face it, flowers can be a nice touch in a room, but mushrooms lend an element that always seems to delight. Sometimes Janna incorporates small mushroom detail for an unexpected aesthetic moment or makes a grand statement with larger pieces like the current favorite; mushroom tables.
Mushroom Symbolism and Design
It is said that mushrooms symbolize "change and transformation." This may be due to the various stages of the mushroom from spores to mycelium to fruiting bodies. Mushrooms are also said to be both nutritious and medicinal. In fact, exploration of mushroom healing properties is both fascinating and extensive. Thus, mushrooms conjure a sense of well-being while also adding a playfulness rooted in nature. In fact, the mushroom is a rare organism that straddles both the natural and the supernatural world in our collective psyche.
Ever evolving Mushroom aesthetics
Many people are surprised to learn that not all mushroom art and mushroom furniture is of the woodland variety. Now more sophisticated options are having an impact in the design world. We will show you not only some of our favorite aesthetic mushroom pieces, but also lend some tips on how to incorporate mushroom detail in a way that works with almost any scheme.
The mushroom table aesthetic
OBSESSED with these Orazio Round Marble Mushroom Coffee Tables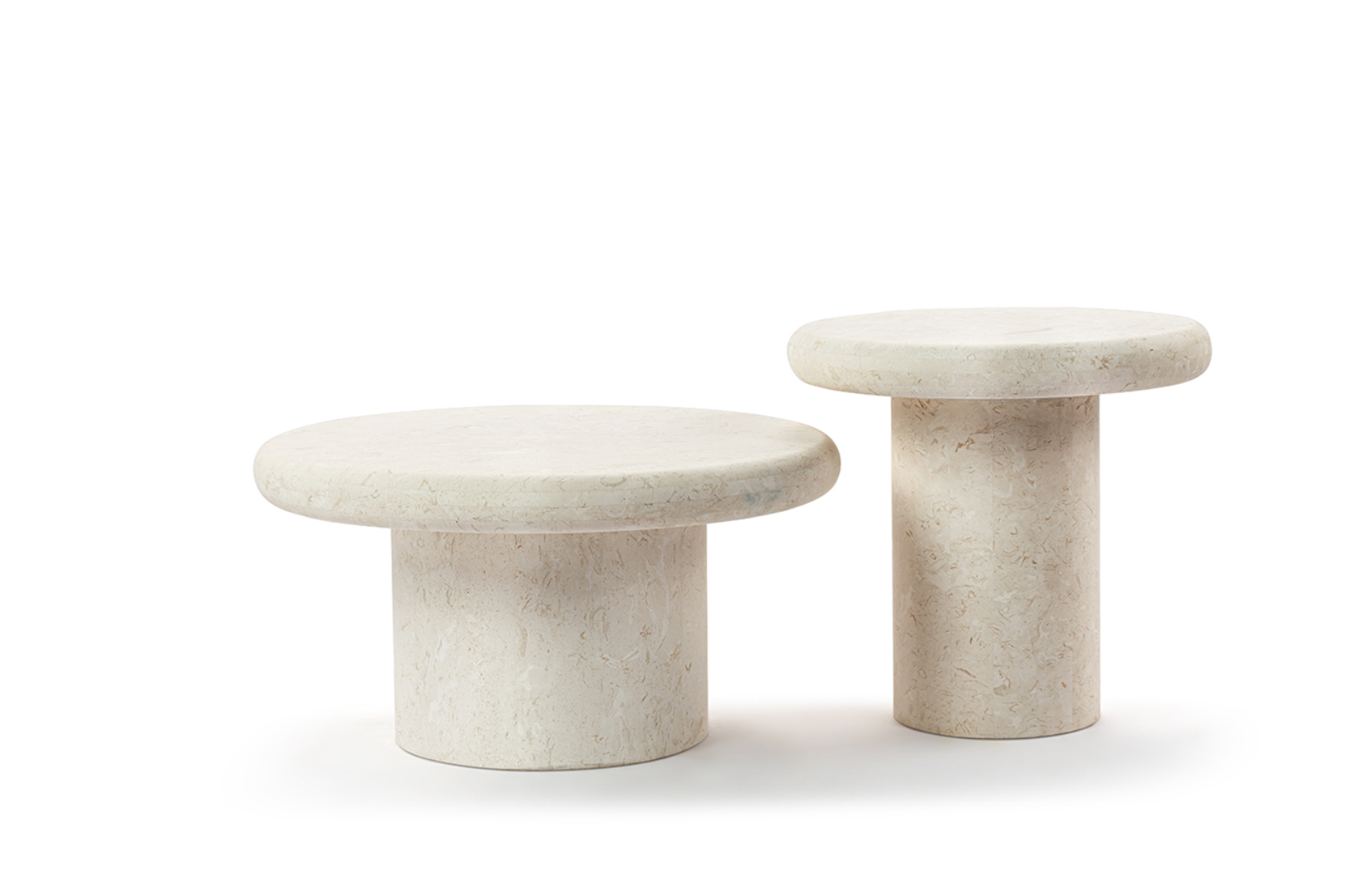 Forget about it! The Japanese simplicity mixed with the weighted elegance of marble is drool worthy. Made from Moon Light stone sourced in Italy, this Travertine has the irregularities that perfectly echo nature and allow for unique variation with every piece. Definitely not an assembly line item though some slight assembly is required up arrival. A great surface to place a special vintage vase or small stack of art books!
The Mushroom wallpaper aesthetic
We are mad for this Mushroom City wallpaper in daisy by Burke Decor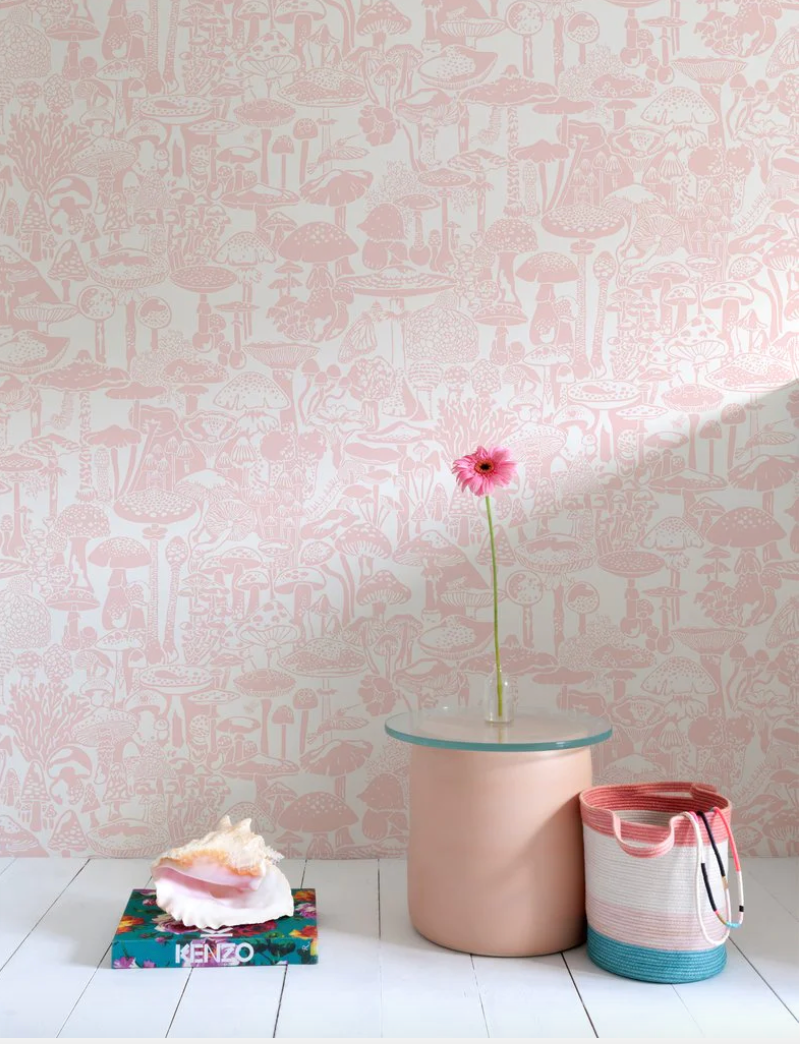 This cool fusion of nature's mushrooms and Man's cityscape is from the Bun Voyage collection by Aimee Wilder. I love the muted pinks and busyness that manages to calm rather than distract.
Mushroom Decor – Serious collectors item
Mushroom art is not always on canvas. A rare find, this gorgeous vintage Daum vase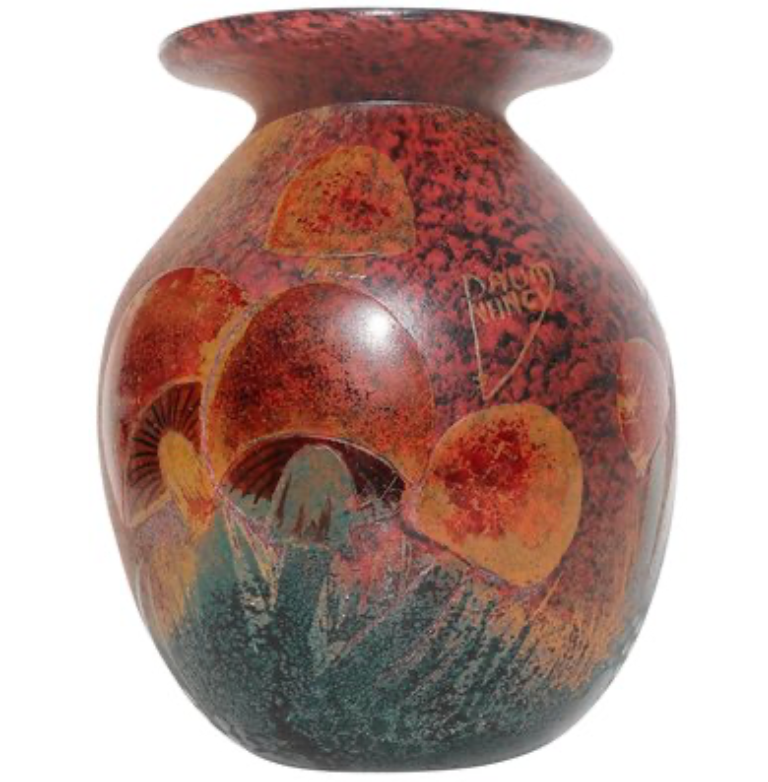 This French Glass Mushroom Vase from Pamono.co.uk has attributes of Art Nouveau and is from the turn of the century. Wheel cut with raised design in colored enamels on an etched ground with a raised cameo "Daum Nancy' and a Croix de Lorraine mark. It hails from an 1890-1919 Daum Design Manufacturing and Production period. This relic is in excellent condition and sells for $9,406.96 (conversion from British sterling, 07/15/2023) Find out more here.
Mushroom Decor-spice up your table with unexpected mushroom aesthetic!
I once received these shakers from the Well Appointed House as a wedding gift. I was so excited to use them, but once I got back from my honeymoon, I couldn't find the box. Somehow from the transport of hotel to house, they went missing!:(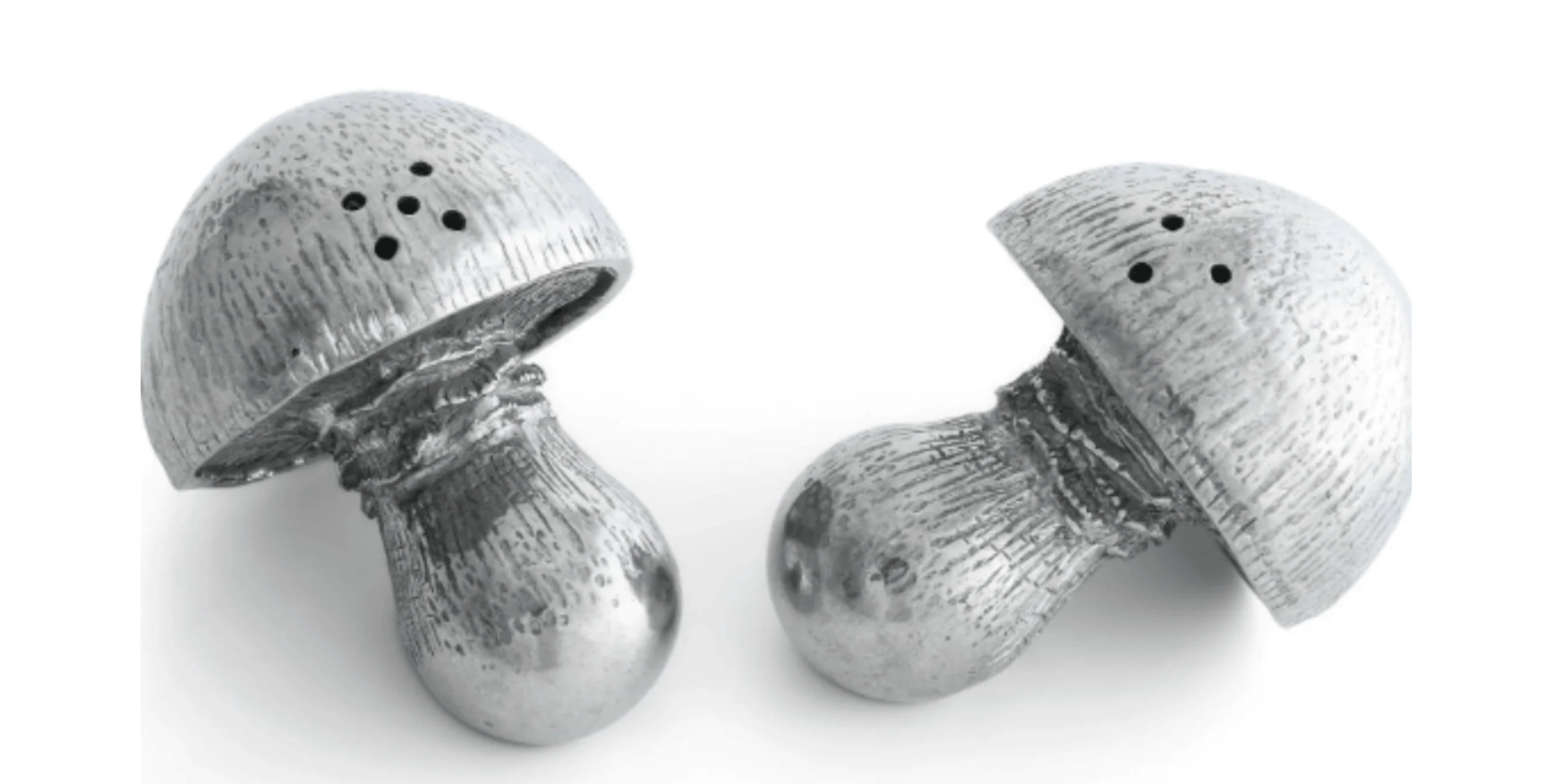 But now I've found them again! I can't wait to order mine. I love the little dash of whimsey they lend to an otherwise mundane task of salting and peppering….Only $51.00, made from luxury-grade pewter.
Mushroom Lamps
First, I have to say, this DIY mushroom lamp looks super easy and pretty cool. However, if you're not into being crafty or want something a little more upscale, we love this Artmide Nesso Table Lamp from Lumans .
The Nesso is an iconic lamp that has seen more iterations and knock offs than one can track. That's most likely because its roots stem back to the famous Italian manufacturer, Artemide. The original designer was Giancarlo Mattioli in 1967. Nesso now belongs in the permanent collection at New York's iconic Museum of Modern Art. By using injection-molded ABS resin, which was a groundbreaking technique at the time, it creates this smooth seamless shape that seems to melt into its parts. At $405.00, you will have an interior design staple that never ceases to spark conversation.
Conclusion
Mushroom aesthetics and decor can be fun, beautiful, woodsy, and stylized. In the end, a touch of mushroom magic is sure to delight the senses and conjure wonderful feelings of nature within your home.