4 Top Picks For The Best Indoor Dog House
ByLCP March 20, 2023
If you want to skip to the pics…
Why do people get indoor dog houses for their pets?
Our 4 Top Picks For the best indoor dog house, 2023, and my true story.
Before I purchased his indoor dog house, my furry boy ran under the coffee table whenever he needed a "time out" from humans. I called it his "safe space." which always made my family and friends laugh.
That said, dog experts agree, having a designated spot—or indoor dog house—for your pups is important. Offering your dog a place to call his or her own is a great way to provide a sense of security.
Compact, well-insulated shelters offer relaxation and calm. In this way, dog dens make an ideal place for anxious pets to retreat when overwhelmed by stressful situations.
It's true, you can create a cozy spot with soft surfaces, pillows, and blankets. But, add a covering overhead and walls and you offer your pup a contained space. Most dogs will innately desire this. In addition, you offer your special friend an added sense of security within your loving home. This can help not only with personality regulation, but also with sleep patterns.
As a dog owner, you know that a happy pup—who sleeps through the night— makes for an equally happy you!
Do dogs desire a house of their own?
Dogs are den animals by nature and enjoy small enclosed spaces to call their own. Not only does it offer a place of retreat, a dog house can serve multiple purposes. Pet owners can also incorporate indoor dog houses with their house training protocols. By using a pet crate, you can provide a designated space for your little one to "make potty." As well, one can use crates for sleep training.
Furthermore, some indoor dog houses are designed to look like miniature versions of outdoor dog houses. This provides a familiarity for those four legged friends who spend the majority of time outdoors.
And let's face it, indoor dog houses can be super cute! But more than this, they're often statement pieces. These days, architects are getting in on the game and we're now seeing sophisticated, high-level designs without compromising functionality.
In conclusion, indoor dog houses are great additions for both dogs and dog owners' entire house. They provide a sense of security and comfort for the pet. As well, they are practical and can lend aesthetic value to a room.
What's home decor got to do with choosing an indoor dog house?
One might wonder what interior design has to do with considering which dog house is right for your home. Surprisingly, finding the right dog house features that are not only aesthetically pleasing to you, the owner, but that also accommodates your dog's needs can be tricky.
While a plastic dog house offers benefits that natural wood doesn't, its not as aesthetically pleasing as, say, solid fir wood, for instance, nor is it environmentally friendly.
In short, while the interior design componant is important, the primary consideration should always be "maximum comfort for your dog."
How important is proper ventilation for an indoor dog house?
Proper ventilation is key for your furry friends. The best indoor dog houses take into account that air inside the dog house. The air inside most plastic indoor dog houses become stagnant and fills with dust, dander, and other airborne allergens. This leads to poor air quality, which can be harmful to your dog's health, as well as your own.
An added benefit of proper ventilation is that it helps regulate the temperature inside the dog house. During hot weather, ventilation allows hot air to escape, preventing the indoor dog house from becoming too hot and uncomfortable for your dog. In colder weather, ventilation allows fresh air to enter, preventing moisture buildup and helping to maintain a dry, warm environment.
Without proper ventilation, odors from your dog's waste, food, and other sources can build up inside the dog house. Therefore, proper ventilation, (particularly hard, but needed in soft houses) helps to circulate fresh air and remove these unpleasant smells.
Overall, proper ventilation is essential for maintaining a healthy and comfortable environment for your dog inside their indoor dog house. This goes for cat houses too, should it apply.
Should breed size make a difference in choosing the best indoor dog house?
Absolutely! Breed size is crucial to finding the right fit for your dog!
It matters not if its a plastic indoor dog house like this uniquely shaped house from PALRAM with an elevated floor…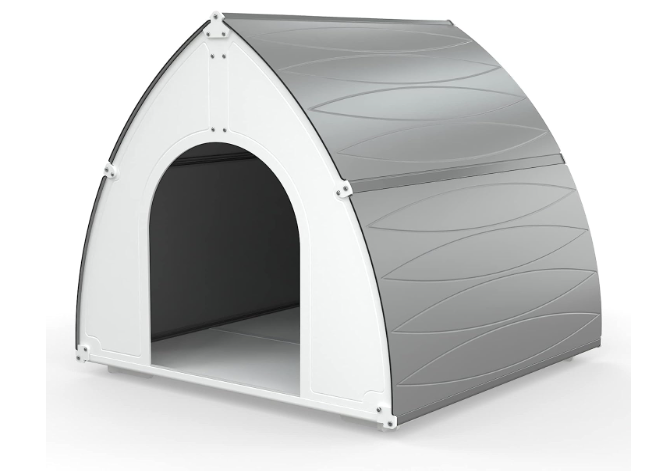 or this soft indoor dog house igloo that is insulated and excellent for travel by ANPPEX….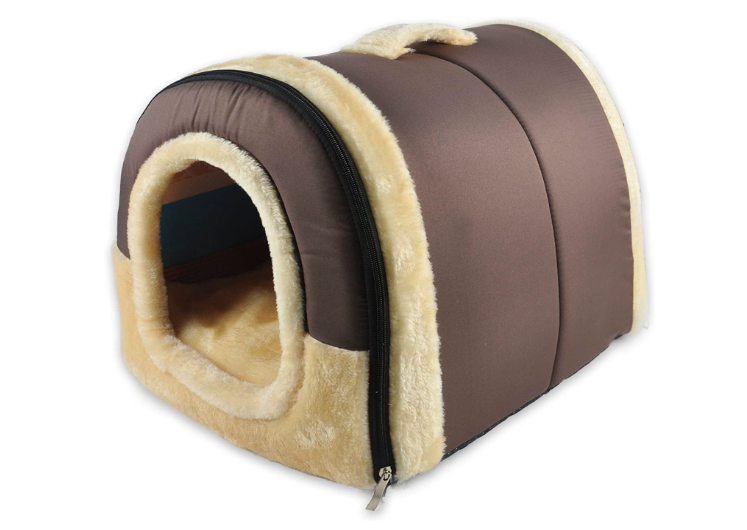 or this wood dog house by JINLLY that seamlessly works as part of the furniture and is ideal for two dogs….
or even an outdoor dog house, pet owners should take into account size as a primary consideration.
Getting it right is good for both you and your furry friend.
Consider that your dog's personality also can play a role. Does he or she like to play rough with a chew toy? Will your dog mostly use this cozy space to retreat? Consequently, if you use your pet house as a side table or end table and place things on top of it, consider your dog's safety. You don't want glass to knock off rendering shards to fly in the area.
A cozy indoor dog house does not need to have an open door. In fact, if you plan to use it as a pet crate, perhaps even traveling it to a hotel room, you may require a lockable wire door like this one from DONORO.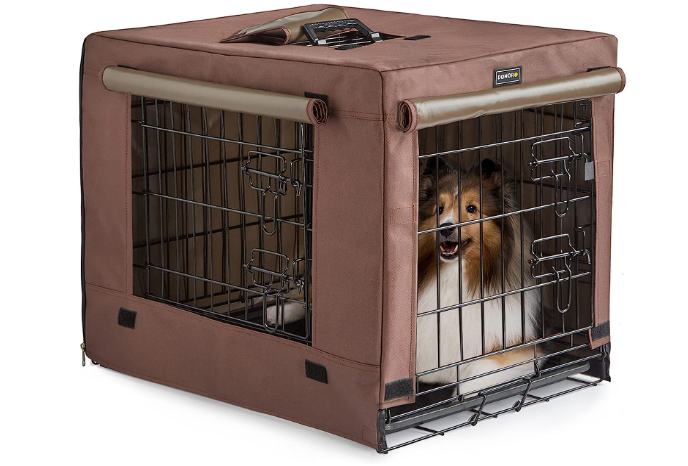 Your pet home may not be just a place for your dog to rest comfortably or used solely for a private space away from other dogs, pets, or humans. It may also need to function as a training and travel devise.
Big dogs obviously need the space that smaller dogs don't. And while small dogs need move around, they also want to feel secure which means not overwhelmed by too much room. Therefore, look for small indoor dog houses sized ideally for miniatures and breeds that won't grow to medium or large dogs.
A cat house sometimes can double as a small dog house. As well, a travel dog crate can suffice. However, a dog crate is not always ideal aesthetically.
Medium sized dogs need the obvious leg room in their indoor house that small dogs don't. It stands to reason then that medium dogs won't require the expanse that large dogs will. As a pet parent, you want to assure you're taking size into account when choosing your indoor dog house.
When looking for an indoor dog house, there are several qualities that you should insist on to ensure your pet's comfort and safety.
Some of these qualities include:
Size: The dog house should be spacious enough for your dog to stand up, turn around, and lie down comfortably. Consider if you want your dog to grow into the space or if you will be replacing a smaller dog house with a larger one down the road. A soft house may not be the best choice for Larger dogs
Material: The material should be sturdy, durable, and easy to clean. It should also be free of any harmful chemicals.
Insulation: The dog house should be insulated to provide warmth during cold weather and protection from extreme heat during hot weather.
Ventilation: The dog house should have proper ventilation to ensure good air circulation and prevent the buildup of stale air and odors. Fresh air is important for your dog's well-being. While this isn't an issue for outdoor houses, it is something to consider for an enclosed space that will be primarily used indoors.
But, that's not all, there is more to consider when choosing the right indoor dog house for your pet
Entrance: The entrance should be wide enough for your dog to enter and exit comfortably. It should be designed to keep out rain and wind. This is especially important if you are transporting your indoor dog house outside.
Flooring: The flooring should be comfortable and non-slip to provide good traction for your dog, and it should be easy to clean. Often padding or pillows to cushion hard surfaces are appreciated. But, make sure they are made from breathable material.
Design: The design should be attractive and aesthetically pleasing to fit in with your home's decor. Consider also should you need it to serve as additional furniture. Do you need it to be made of lightweight materials for easy transport? What other important features do you require for your lifestyle and that of your dog? Does it lend itself to easy cleaning? If you have multiple dogs, do you intend for them to share a dog house or have separate houses? If the latter, then choosing matching or simpatico houses may be desired. Don't hesitate to email Janna for questions about the aesthetic direction in this way.
Accessibility: The dog house should be easily accessible for cleaning and maintenance purposes.
Additional factors to consider:
Size of your space
Breed of dog and special requirements for that breed, or personality traits that may impact your decision.
Goals: do you intend to use it for potty training, disciplining, or contributing to additional insulation in a colder home, as examples.
Price
Our top 3 pics for the best indoor dog houses:
1. Wooden
Wooden indoor dog houses provide excellent insulation and are suitable for larger dogs. They are more durable and can be customized to fit your home decor.
This COZIWOW Furniture Style Dog Crate for Small and Medium Breeds. You can order and ship direct from Amazon. As well, it has a pull out tray and lockable door.
Crafted from sturdy HDF, chew-proof galvanized enclosure bars and puppy-friendly wire mesh, this dog cage keeps your little friend securely inside while providing enough space for ample airflow and a wide view outside. Easy to wipe with a damp cloth, it has a smooth, frosted finish.
Why we like this indoor wooden dog house:
If you're crate training a new pup, this wooden dog house/crate hybrid lends an attractive flair to the usual plastic and metal varieties. Because it serves as an end table, you can keep your newly arrived puppy company in the seat next to it. As a result, your furry baby can get used to his surroundings or attempt to fall to sleep, with you by his side.
Added bonus
It can double as a side table or wall console too; a great place to store pet training books, cuddle toys and other training needs.
Okay, if you're going for this crate/furniture hybrid dog house, we love the hipster, rustic vibe with a wood finish from Feandrea. Please take note, some reviews are saying the wiring is not strong, so, after reading, if you still want to proceed, we suggest this for a docile or older dog who won't try to chew the wires…That said, all agreed that aesthetically, it looked great.
If you like the look of this dog house but want more storage space for multipurpose functionality, consider this indoor dog crate from GDLF. This is ideal for large dogs who have been crate trained and for anxious dogs who feel more comfortable in a crate-like structure.
Added bonus
We love that GDLF is a small business brand.
2. Soft-Sided
Soft-sided dog houses are lightweight, portable, and easy to clean. Suitable for small dogs, these dog houses can be used both indoors and outdoors though I wouldn't suggest leaving them out in the elements for long periods of time or overnight.
Pet Tent-Soft Bed for Dog and Cat by Best Pet Supplies. You can order and ship direct from Amazon. This lightweight portable tent and dog bed comes in four different sizes and works for cats too! You can choose from brown or gray linen, plaid, a lattice pattern, or various neutrals in both faux suede or corduroy. These are ideal for small to medium-sized dogs.
Why we like this soft-sided dog house:
It's machine washable and lightweight with a travel hook for easy transport so it can serve as a temporary outdoor and cozy dog house as well. Secondly, the soft poly-foam lining molds to the shape of your pet's favorite position for added comfort. Finally, the sturdy construction and inconspicuous design means it will seamlessly tie into your decor.
Added bonus
It includes a plush pillow for that additional cuddle factor for your furry friend!
3. Plastic
Plastic dog houses are lightweight and easy to clean. They come in different sizes and designs and can be used both indoors and outdoors.
The VATO Dog Kennel is a waterproof, plastic doghouse for small dogs. Although plastic may not be the most environmentally friendly choice, many people opt for it because it's lightweight, durable and easy to clean.
Why choose plastic for an indoor dog house?
Though plastic doghouses are usually considered appropriate as outdoor doghouses, there are several versions that work for both.
It's true that this VATO is an outdoor dog house. Nevertheless, we like its cute etched facade and modern white and gray coloring. Because it's for most small breeds, we feel it makes a suitable indoor doghouse for those who opt for plastic dog houses over other materials like wood finishes.
Added bonus
We love the stainless steel water and food bowls that attach. Another added benefit is the raised floor. This offers additional protection from accidents, safeguarding your floor. It's also easy to assemble and can be ordered direct on Amazon.
4. Designer
Yes, designer dog houses are a thing!
What makes an architecturally inspired dog house successful is achieving excellence in design without sacrificing to practical function and comfort.
With a nod to Buckminster Fuller, this Dome-Home Dog Kennel by architectural firm Foster & Partners was designed for Goodwoof's Barkitecture competition. Made from cherry wood and fine timber, the geodesic structure is a definite choice for the aesthete…who just happens to have a dog.
Why we like this Dome-Home dog house?
The luxury Dome-Home's interiors are lined with padded fabric to ensure comfort for your canine bestie. Additionally, the fabric can be removed for washing. Therefore, it's not all brawn and will function appropriately for your furry friend
Added bonus
You will definitely have a conversation piece with this pet house. Consequently, if your human home lacks it, that illusive "wow factor" will no longer be unattained.
But, make no mistake, the price tag is not for the causal house design admirer. At $5,804, one needs to take their architecture for dogs seriously!
Another designer-category dog house that we love is the Indoor Dog House by Line Lounge Design.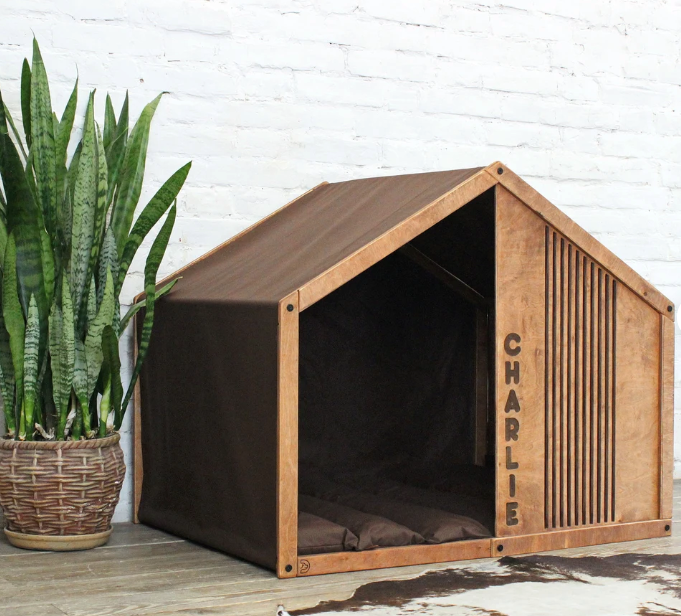 This beautifully crafted dog house by Line Lounge is available for small, medium, large and extra-large dog breeds. The restrained, minimalistic construction with its sturdy frame is handmade with quality plywood. The frame colors come in teak, rosewood, violet, and ebony. And the linen fabric comes in beige, brown, grey, and black.
Added bonus
It's portable and comes with a body-shaped pillow. What's more, we love that you can personalize with your pup's name!
For a designer dog house, the price is moderate at $420.00 Shipping not included. Email us for details on where to find it; it's not sold by many.
In Conclusion:
Regardless of the size or style of the dog house you choose; soft house, plastic dog house or crate-style in unfinished wood, keep in mind the above criteria outlined. If address those satisfactorily before you make your purchase and you'll have found the best doghouse for you!
Janna and her four-legged guys!